#76 - Bat-Yam Balfour 61 (b) /4-1, 2-room
Contacts for a order:

ARENDAIZRAIL Sofia, Denis - id 24




On site:

10 year 11 month




Last visit

:

05-Dec-2023 21:46




Number of apartments

:

8

View apartments this manager
phone:

+97237631172, +972525961777, +74956628722, +380675221402

e-mail:
arendaizrail@gmail.com
skype:
arendaizrail
viber:

+972525961777

whatsapp:

+972525961777

languages:

ru, eng, heb

work time:

8:00-20:00 Jerusalem

Address:

Bat Yam, Balfour st. 61 ap.4

&nbsp&nbsp

Floor:

2 from

&nbsp&nbsp

Rooms:

2

&nbsp&nbsp

Sleeping places:

4

&nbsp&nbsp

Separate sleeps:

2





---

TIME CHECK-IN:

14:00




TIME CHECK-OUT:

10:00




Utility payments:

included




Transfer:

extra_charge




Minimum stay:

3-5 дней






Booking the flat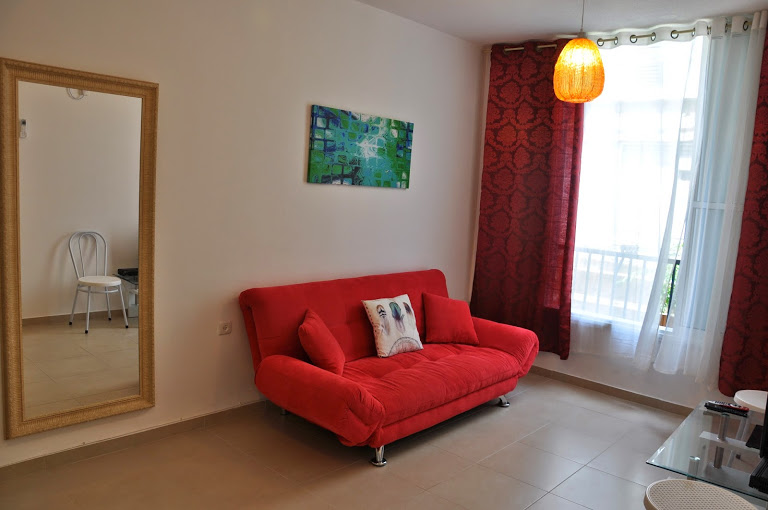 Look all photos
This cozy one-bedroom apartment is only in three-minute' walk from the Bat Yam Beach. It is located in a quiet area; its windows open onto the inner street.
Balfоur street – the street where the apartment is situated, is really busy and exciting for the tourists, it is a place where everyone can choose unique souvenirs, in-season clothes, and of course fruit and vegetable to fit every taste!
In the neighbourhood there are nice food shops, banks, travel agencies, mobile phone shops and everything you might need while you are on holiday.
Right from Balfоur street you can easily set off on a bus trip all around the country, as the apartment is in the district with a well-developed infrastructure.

The bedroom has got a large double bed with an orthopedic mattress and a roomy wardrobe. The curtains and the painting with orchids have been tastefully selected to match the interior. The room appears to be exclusively designed for the relaxing stay in a home atmosphere.
The kitchen possesses all the things necessary to cook tasty home-made dishes for a big family or the company of your friends. There is a wheeled extension table for four people. There is also a fridge, microwave, electric cooker, tableware etc., so that you will lack nothing.
The salon has got a plasma TV and a fold-out sofa. There is also a coffee table.
The high-speed Wi-Fi Internet is accessible all round the flat.

The bathroom is really light and spacious. The new shower cubicle and washing machine will make your day. Everything here is clean and new.
In the front-room there is a storage locker for shoes.
The apartment is very airy. Here you will find the perfect atmosphere for a pleasant stay in Israel!
 

December 2023
January 2024
February 2024
Su
Mo
Tu
We
Th
Fr
Sa
Su
Mo
Tu
We
Th
Fr
Sa
Su
Mo
Tu
We
Th
Fr
Sa

1




2




1

$85

2

$85

3

$85

4

$85

5

$85

6

$85

1

$85

2

$85

3

$85

3




4




5

$85

6

$0

6




7




7

$85

8

$85

9

$85

7

$85

8

$85

9

$85

10

$85

11

$85

12

$85

13

$85

4

$85

5

$85

6

$85

7

$85

8

$85

9

$85

10

$85

10

$85

11

$85

12

$85

13

$85

14

$85

15

$85

16

$85

14

$85

15

$85

16

$85

17

$85

18

$85

19

$85

20

$85

11

$85

12

$85

13

$85

14

$85

15

$85

16

$85

17

$85

17

$85

18

$85

19

$85

20

$85

21

$85

22

$85

23

$85

21

$85

22

$85

23

$85

24

$85

25

$85

26

$85

27

$85

18

$85

19

$85

20

$85

21

$85

22

$85

23

$85

24

$85

24

$85

25

$85

26

$85

27

$85

28

$85

29

$85

30

$85

28

$85

29

$85

30

$85

31

$85

25

$85

26

$85

27

$85

28

$85

29

$85

31

$85
Booking the flat
Booking the flat
Contacts for a order:

ARENDAIZRAIL Sofia, Denis - id 24




On site:

10 year 11 month




Last visit

:

05-Dec-2023 21:46




Number of apartments

:

8

View apartments this manager
phone:

+97237631172, +972525961777, +74956628722, +380675221402

e-mail:
arendaizrail@gmail.com
skype:
arendaizrail
viber:

+972525961777

whatsapp:

+972525961777

languages:

ru, eng, heb

work time:

8:00-20:00 Jerusalem