#436 - Bat-Yam Khana Szenes 29/4, 3 room
Contacts for a order:

ARENDAIZRAIL Sofia, Denis - id 24




On site:

10 year 8 month




Last visit

:

24-Sep-2023 00:18




Number of apartments

:

9

View apartments this manager
phone:

+97237631172, +972525961777, +74956628722, +380675221402

e-mail:
arendaizrail@gmail.com
skype:
arendaizrail
viber:

+972525961777

whatsapp:

+972525961777

languages:

ru, eng, heb

work time:

8:00-20:00 Jerusalem

Address:

Bat Yam, Khana Szenes 29/4

&nbsp&nbsp

Floor:

2 from 2

&nbsp&nbsp

Rooms:

3

&nbsp&nbsp

Sleeping places:

5

&nbsp&nbsp

Separate sleeps:

4





---

TIME CHECK-IN:

14:00




TIME CHECK-OUT:

10:00




Utility payments:

not included




Transfer:

extra_charge




Minimum stay:

3






Booking the flat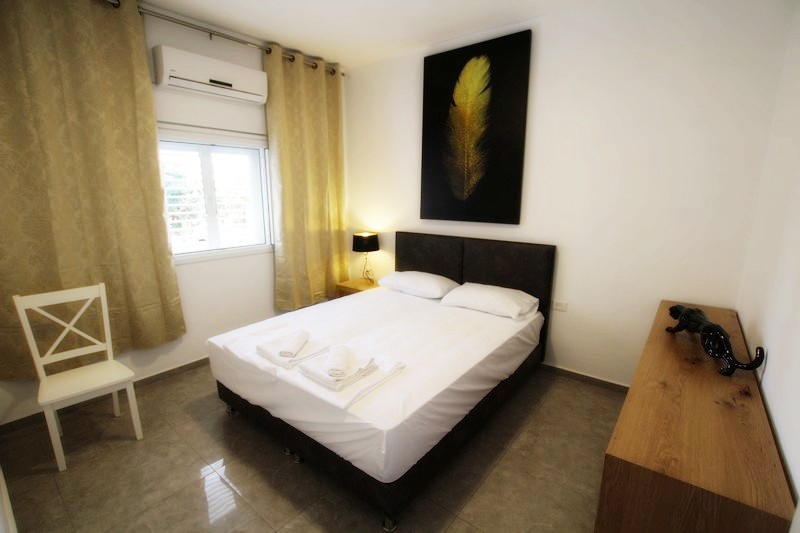 Look all photos
This is a beautiful apartment for up to 5 people.
The bedroom has a closet, a double bed with an orthopedic mattress with air conditioning.

The living room has a sofa bed, pillows and a plasma TV with satellite channels.

The second bedroom has a double sofa.

The kitchen is fully equipped with necessary appliances such as microwave oven, electric stove, electric kettle, refrigerator, kitchen utensils and dining table.

This apartment also has amenities such as bed linen and fresh towels, iron, hairdryer, washing machine and high-speed wireless Internet access.
September 2023
October 2023
November 2023
Su
Mo
Tu
We
Th
Fr
Sa
Su
Mo
Tu
We
Th
Fr
Sa
Su
Mo
Tu
We
Th
Fr
Sa

1




2




1




1

$120

2

$120

3

$120

4

$120

5

$120

6

$120

7

$120

1

$120

2

$120

3

$120

4

$120

3




4




5




6




7




8




9




8

$120

9

$120

10

$120

11

$120

12

$120

13

$120

14

$120

5

$120

6

$120

7

$120

8

$120

9

$120

10

$120

11

$120

10




11




12




13




14




15




16




15

$120

16

$120

17

$120

18

$120

19

$120

20

$120

21

$120

12

$120

13

$120

14

$120

15

$120

16

$120

17

$120

18

$120

17




18




19




20




21




22




23




22

$120

23

$120

24

$120

25

$120

26

$120

27

$120

28

$120

19

$120

20

$120

21

$120

22

$120

23

$120

24

$120

25

$120

24




25




26




27




28




29




30




29

$120

30

$120

31

$120

26

$120

27

$120

28

$120

29

$120

30

$120
Booking the flat
Booking the flat
Contacts for a order:

ARENDAIZRAIL Sofia, Denis - id 24




On site:

10 year 8 month




Last visit

:

24-Sep-2023 00:18




Number of apartments

:

9

View apartments this manager
phone:

+97237631172, +972525961777, +74956628722, +380675221402

e-mail:
arendaizrail@gmail.com
skype:
arendaizrail
viber:

+972525961777

whatsapp:

+972525961777

languages:

ru, eng, heb

work time:

8:00-20:00 Jerusalem