#178 - Bat-Yam Ben Gurion 81/102, 2-room
Contacts for a order:

ARENDAIZRAIL Sofia, Denis - id 24




On site:

10 year 8 month




Last visit

:

24-Sep-2023 00:18




Number of apartments

:

9

View apartments this manager
phone:

+97237631172, +972525961777, +74956628722, +380675221402

e-mail:
arendaizrail@gmail.com
skype:
arendaizrail
viber:

+972525961777

whatsapp:

+972525961777

languages:

ru, eng, heb

work time:

8:00-20:00 Jerusalem

Address:

Bat Yam, Derech Ben Gurion st. 81 ap.102

&nbsp&nbsp

Floor:

1 from 5

&nbsp&nbsp

Rooms:

2

&nbsp&nbsp

Sleeping places:

4

&nbsp&nbsp

Separate sleeps:

2





---

TIME CHECK-IN:

14:00




TIME CHECK-OUT:

10:00




Utility payments:

not included




Transfer:

extra_charge




Minimum stay:

3-5 дней






Booking the flat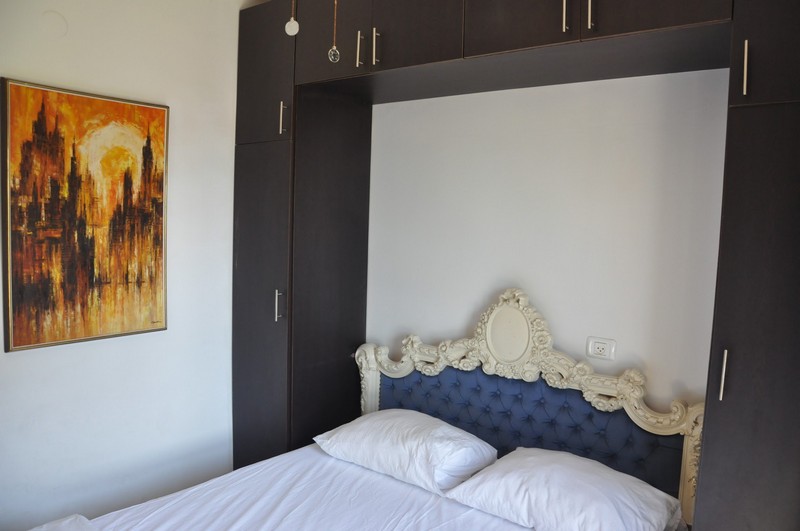 Look all photos
This new cozy one-bedroom flat with the view over the Med is situated right in the seafront of Bat Yam (in the southern part of Tel Aviv), in Ben-Gurion street.

Nearby there is an array of 24/7 shops, restaurants and cafes to fit any taste that are ready to welcome their customers at any time you like seven days a week.

From here you can easily travel all around Israel as buses to Tel Aviv-Yaffo and other destinations set out from the seafront.
The distinguishing feature of the living-room is its large windows which open onto the Mediterranean Sea and fill the place with fresh air and bright sunlight.

Inside there is a fold-out sofa, air-conditioning, plasma TV set with cable television.
The high-speed Wi-Fi Internet is accessible all around the flat.

The bedroom has got a large double bed with an orthopaedic mattress, air-conditioning and a spacious wardrobe.

The kitchen is equipped in order to serve all your needs and desires: it has all the essential appliances such as microwave oven, refrigerator, cooker, kettle, cutlery, dishes and other kitchen utensils.

The dining-table by the window gives you an opportunity to admire a spectacular view over the sea, which will make your breakfast unforgettable and lift your spirits higher.

The flat has also got a washing machine and equipped bathroom. The hair-dryer and iron are at your disposal as well.
The apartment is ideal for 4 people who intend to have a rest with distinctive comfort.
September 2023
October 2023
November 2023
Su
Mo
Tu
We
Th
Fr
Sa
Su
Mo
Tu
We
Th
Fr
Sa
Su
Mo
Tu
We
Th
Fr
Sa

1




2




1

$90

2

$90

3

$90

4

$90

5

$90

6

$90

7

$90

1

$90

2

$90

3

$90

4

$90

3




4




5




6




7




8




9




8

$90

9

$90

10

$90

11

$90

12

$90

13

$90

14

$90

5

$90

6

$90

7

$90

8

$90

9

$90

10

$90

11

$90

10




11




12




13




14




15




16




15

$90

16

$90

17

$90

18

$90

19

$90

20

$90

21

$90

12

$90

13

$90

14

$90

15

$90

16

$90

17

$90

18

$90

17




18




19




20




21




22




23




22

$90

23

$90

24

$90

25

$90

26

$90

27

$90

28

$90

19

$90

20

$90

21

$90

22

$90

23

$90

24

$90

25

$90

24




25




26




26

$90

27

$90

28

$0

28




29




30




30

$90

29

$90

30

$90

31

$90

26

$90

27

$90

28

$90

29

$90

30

$90
Booking the flat
Booking the flat
Contacts for a order:

ARENDAIZRAIL Sofia, Denis - id 24




On site:

10 year 8 month




Last visit

:

24-Sep-2023 00:18




Number of apartments

:

9

View apartments this manager
phone:

+97237631172, +972525961777, +74956628722, +380675221402

e-mail:
arendaizrail@gmail.com
skype:
arendaizrail
viber:

+972525961777

whatsapp:

+972525961777

languages:

ru, eng, heb

work time:

8:00-20:00 Jerusalem